It seemed to come around quickly, having only started in July, but the fantasy baseball season concluded on Sunday 27 September as the Major League Baseball regular season came to a close having been shortened to a two-month, 60-game campaign due to the coronavirus.

Accordingly, Fantasy Baseball UK adapted to make something of what was originally going to be a hiatus year off to review the future of the game after technical issues forced an early end to the 2019 season. We launched Short Season 2020 running via the Yahoo Fantasy platform and invited fantasy managers to register and draft their teams ready for the fantasy league's start on 23 July.

65 fantasy teams took part across six divisions in which managers were loosely grouped regionally. Besides the divisional competitions, the standings were combined to produce an overall league just as in the usual FBUK game.

Congratulations to Jonathan Tugwood, Short Season 2020 Champion after their fantasy team Weebles stayed steady at the top of the overall standings throughout the second half of the season, despite late surges and attempts by others to topple Weebles, who also won the North West division.

In mid-September, division rivals Manchester Pirates and Flying Fish had reduced what had been a 300-point lead by Weebles to less than 200 points. With about 10 days of the season remaining, the Fish had closed the gap to around 100 points. However, during the last week the division rivals faded and at the very end Disposable Team, managed by Glen Marsland in the North division, finished strongly to take both the North division title and the runner-up spot in the overall game, just 22 points behind Weebles.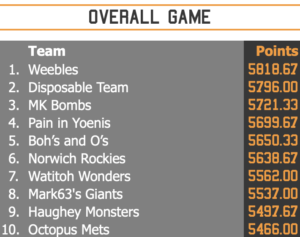 Elsewhere, several of the regional divisions had quite close finishes in the final week or two of the season. In mid-September, Norwich Rockies closed the gap to 30 points behind Pain in Yoenis in the East division and had dislodged them to sit in first place on the morning of the final day of the season, after a big 166-point Saturday night. But Pain in Yoenis provided a firm rebuttal by scoring an equally impressive 155 points on Sunday to shift back into first place when it counted, resulting in pride not pain for winning manager Daniel Perrin.

In the Central division, Wayne Mason's AZ Doublebacks had built a decent lead going into September but this was pegged back to just 20 points by Boys of Late Summer by 14 September. The Doublebacks doubled down to rebuild the lead but a massive night by both Boys of Late Summer and Dazed and Confused on the final Saturday (182 points scored and 194 points scored respectively) kept them within touching distance of the leaders, who had a 92-point gap. Despite 100+ point days again for the chasers on Sunday, AZ Doublebacks did enough to seal the Central division title.
Starting the final week of the season in the West, what had once been a large 250-point lead by Boh's and O's had been drastically cut to 35pts by Watitoh Wonders in second place. Ultimately, Dan Grainger's O's could not be budged from first place.

In the South, Allan Hopkins' MK Bombs overtook the long-time leader Haughey Monsters in early September and eventually won the title with a healthy 200+ point lead.
Winners list
Here's the winners of each of the competitions, their points tallies and (in red) the gap between them and the second-placed fantasy team in their division:
Overall Champion: Weebles (Jonathan Tugwood) – 5818.67 (+22.67)
North West: Weebles (Jonathan Tugwood) – 5818.67 (+433.34)
South: MK Bombs (Allan Hopkins) – 5721.33 (+223.66)
East: Pain in Yoenis (Daniel Perrin) – 5699.67 (+61)
West: Boh's and O's (Dan Grainger) – 5650.33 (+88.33)
Central: AZ Doublebacks (Wayne Mason) – 5400.67 (+62.67)
North: Disposable Team (Glen Marsland) – 5796.00 (+362.33)
The final divisional and overall standings can be viewed in the Standings section of the website.
The closer
As Short Season 2020 comes to a close, if you played, thank you for taking part and hopefully you enjoyed it. There were quite a few differences in how the game worked compared to what we're used to in the traditional Fantasy Baseball UK game, and FBUK is keen to hear your feedback on what you thought of using the Yahoo platform. If you have any thoughts you send an email by replying to this one or via the Contact Us page on the website, or leave a comment on the FBUK website article. Thanks to those who have already got in touch.
You can also follow Fantasy Baseball UK on Facebook, Twitter and Instagram.
It's just left to say: stay safe, enjoy the MLB postseason because after that it's at least another four months (hopefully no longer than that!) without any baseball, and hope to see you next season!
The FBUK Commissioner