Anyone that played Fantasy Baseball UK in 2019 or before will be aware that before it broke, the original game used a salary cap system in which managers built a roster within a set budget limit to spend on player salaries. FBUK has found a solution to reintroduce that format using a third party in the form of the Fantrax online fantasy baseball platform, which offers a salary cap league as one of its formats. For the 2022 season, FBUK is excited to offer it as a third option alongside the two existing formats – the main FBUK League and the limited trade league – that will continue to run on the Yahoo Sports platform.
When the idea was floated in the FBUK forums at the end of last season, there was interest from managers in taking part. FBUK tested Fantrax out during the 2021 MLB postseason and it looks like it works in the same way the old FBUK format did but with the advantages of being a professional fantasy platform with a modern interface, technical support and very customisable league settings from the commissioner's point of view.
The hitch is that to use the salary cap format requires FBUK paying for a Fantrax premium package. Fantasy Baseball UK is a volunteer-run endeavour and the majority of the game has always been offered for free to participants. In this case, to help cover costs, there will be a league fee of £10 for a manager to enter a team in the salary cap league. To reflect the contribution, the eventual league winner will be awarded a unique printed FBUK Champion 2022 baseball with their name on.
The two existing league formats run on Yahoo Sports remain free to enter.
How the salary cap league works
Each MLB player is assigned a salary value by Fantrax based on previous and projected performance.
Rather than a draft, managers build their roster within a team salary budget cap (the same for each team – $12m).
Within the league, the same MLB player could be held by multiple different fantasy teams/managers.
As the season progresses, player salary values are regularly recalculated up or down based on performance (and at a ratio appropriate to the $12m team budget).
Revaluation won't affect a player's salary if they are already on your roster but if you add a player to your roster it will be based on their current salary value at the time. Similarly, if you drop a player then pick them up again later in the season, you pay their current salary value, not what it used to be when they were first on your roster.
As you drop and add players through the season you will need to be mindful of your overall team budget cap. Similar to how fantasy football (soccer) in the UK tends to work.
Like the Yahoo leagues, we will use a simple points format where fantasy points are awarded to your rostered players based on their daily performance in different categories and fantasy teams accumulate points through the season.
Fantrax example screenshots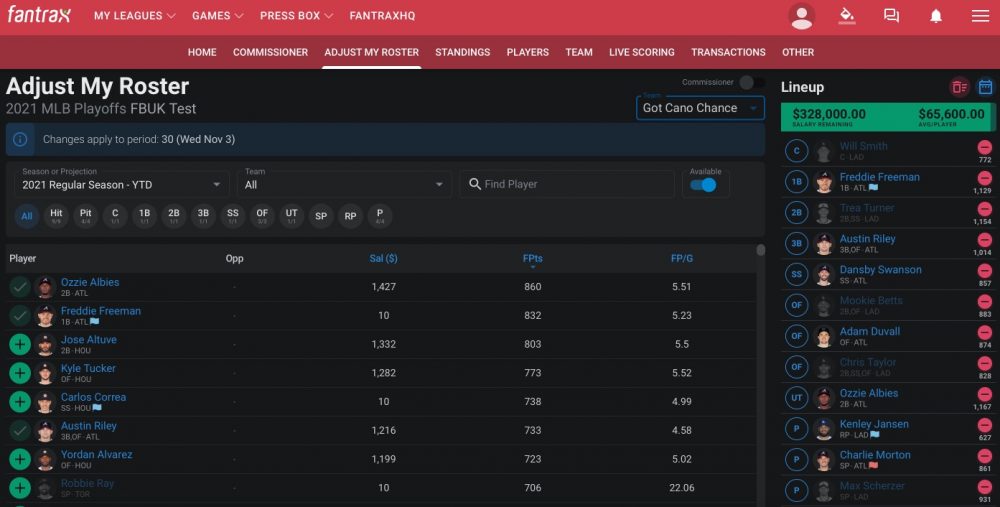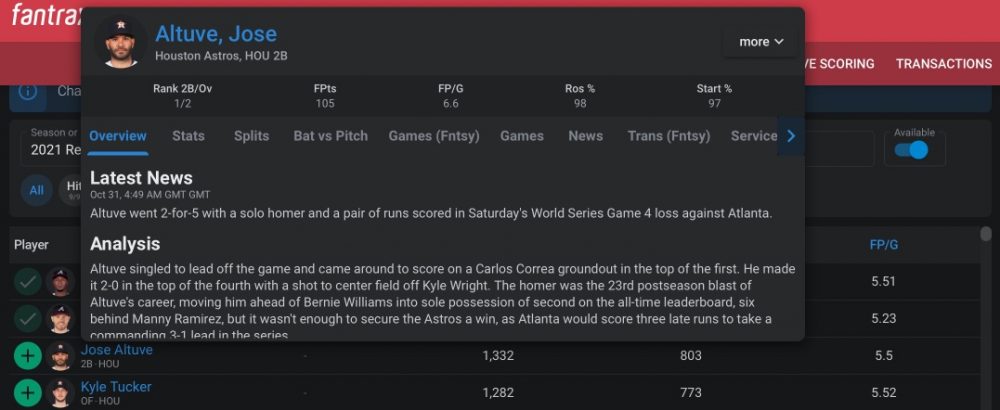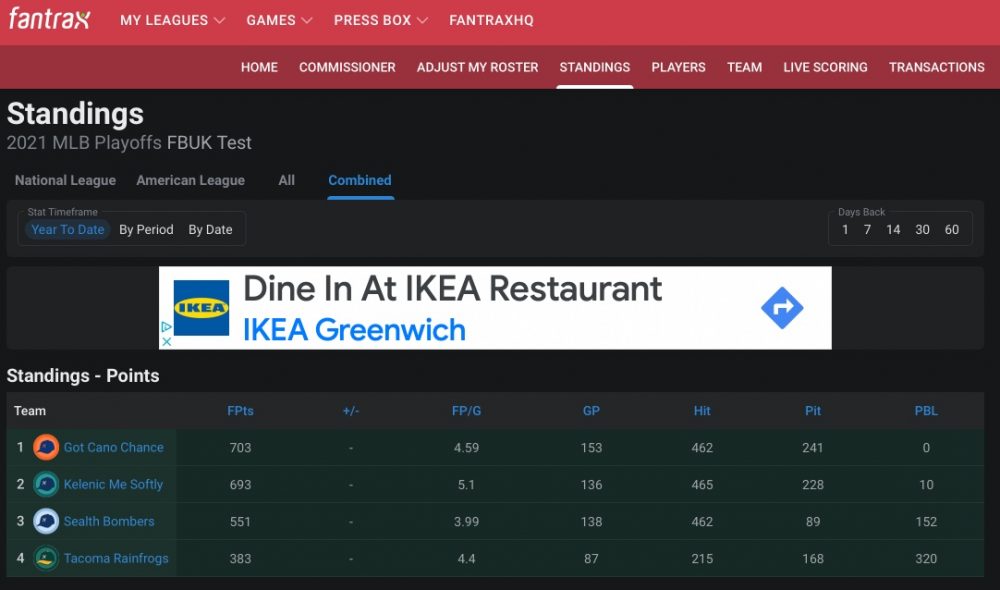 Registration
Information on joining the salary cap league or either of the other league formats is available on the 2022 registration article. Due to the cost of the Fantrax package, it needs a certain number of managers to enter to make it workable. If it turns out there aren't enough registered for the salary cap league to go ahead by the start of the season, FBUK will fully refund any managers who did register and pay.
As we get closer to the season's scheduled start date of 31 March, we will provide more details about the league. If you have any questions, please feel free to post them in the FBUK forums or contact us.