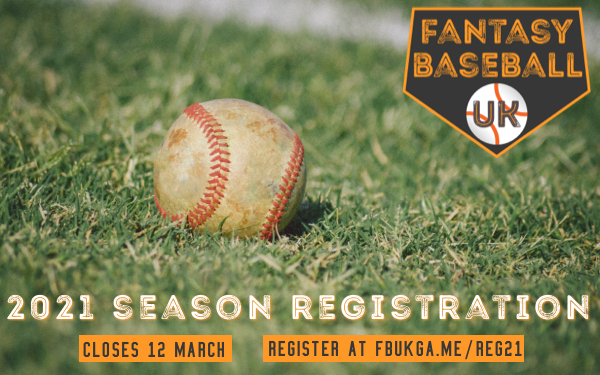 Registration is now open for the 2021 season of Fantasy Baseball UK!
Like last season, the fantasy league will again be run through the Yahoo Sports platform. It's free to enter plus this year sees the return of the Limited Trade side game beside the main game. Check out the guide to how it works below and then fill in the short registration form if you would like to enter a team.
Closing date for registrations is Friday 12 March.
(You can read more detail about the reasons for the move from the original game format to Yahoo in this recent article.)
How it works
The league is run through Yahoo Sports, which is well established in running fantasy baseball formats and is the official fantasy platform of MLB. To manage your team you will need to create a Yahoo account if you don't already have one (but you don't need it to complete the registration form below).
The draft
Like pretty much every fantasy baseball league Yahoo uses an initial draft for managers to build their rosters. Managers take turns to pick a MLB player and a player can only appear on one fantasy team's roster within each league. You can opt to set an auto-draft for your team if you don't want to or can't manually pick every player on your roster. There is no team salary budget or player salary value.
After the draft, undrafted players remaining can then be added or swapped onto rosters via waivers. Players can also be traded between fantasy teams through the season.
The format
Yahoo offers various fantasy baseball scoring formats. To keep it similar to the original FBUK, our league will use the simple points format where points are awarded to your rostered players based on their daily performance in different categories and fantasy teams accumulate points through the season.
As there is a 20-team limit per league, depending on how many people play, we would likely run several leagues which would effectively act as divisions. There would be a separate draft from the entire MLB player pool within each division. Like we did previously, the standings can be combined to mark as the overall champion the team with the most points across all divisions at the end of the season.
The Limited Trade Game
Beside the main game, we're bringing back the Limited Trade side game. With no bench in this game, you have no substitutes and there will be a limit to how many trades or free agent acquisitions you can make during the season. With limited flexibility, your roster decisions are even more important, but it is also great for those fantasy players who don't want to make constant changes to their line-up.
Free to play
It will be free to play and managers can enter one team in each of the formats (main and Limited Trade). Although we have offered them in the past, at the moment we can't promise prizes but we'll see what's possible during the season.
Key dates
Some of these might be subject to change but here's how it should work:
Closing date for registrations: Friday 12 March (midnight)
Registered managers will be arranged into divisions and invitations emailed out to create their team on the Yahoo platform.
Deadline for managers to accept their invitation: Friday 19 March
If not all managers accept their invitation (which happened last year), some slight re-jigging of division groupings might be done to try to keep divisions roughly the same number of teams. This is a bit of a faff, though, as it requires new invitations, so it's much better if all managers accept their initial invitations!
Proposed draft dates: evenings of Friday 26 and Saturday 27 March
Separate online drafts are needed for the main and Limited Trade games as managers might have teams in both formats. Remember, you can set up auto-draft if you can't or don't want to make either of the drafts in real time.
Season starts: Thursday 1 April
Further information
For more information, check out the links on the Help page. Some of the info will be updated for the 2021 season but for the most part it provides a guide to how the game works.
Forums
If you are taking part in the game, why not join in the discussion in the recently re-launched forums? This is where you can contribute to the conversation on how the game is run – there's already a couple of questions live related to pitcher scoring this season.
As we have had to rebuild the forums and website account system from scratch, it means that you will need to register a new account to log in to the new forums (the old website's forum accounts no longer exist). However, there is the option to connect with your Yahoo account, which fantasy managers might prefer as they will use a Yahoo account to play in the fantasy league itself. Not only will you be able to use the same login details for both the FBUK and Yahoo fantasy baseball websites, it should make hopping between your Yahoo fantasy baseball account and your FBUK Forums account fairly seamless.
Done reading? Get registering!
Please use this form to register to take part in FBUK 2021.
Please note: As the number of people who register will influence how the game is set up (e.g. number of divisions required, allocating invites, etc) please only register if you are sure you want to take part.
Confirmation: A couple of people have had an issue where the form looks like it has not successfully submitted (it gets stuck with the little circle spinning) but in actual fact it has. You should receive a confirmation email so it is worth checking for that. If in doubt, contact us to check.
Sorry, registration has now closed.